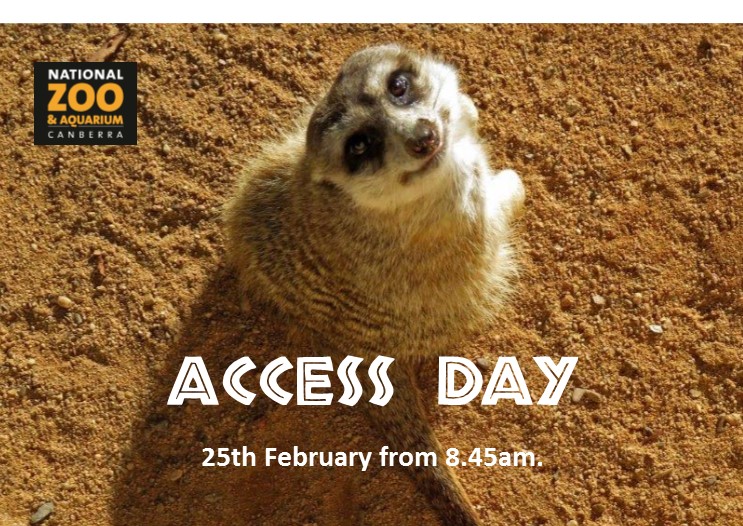 Special early Access Days for guests on the autism spectrum
On our Access Days, guests on the autism spectrum with their family and friends can enjoy early entry to the National Zoo & Aquarium, Canberra. This is a great opportunity for you to enjoy the peace and quiet of the Zoo before it opens to the general public. There will be some friendly animals to meet and our helpful zoo guides will be available for questions and assistance.
WHEN: 25th April 2018 from 8.45am
Pre-registration is required for this day, and tickets can be purchased here.
NZA FONZ Members wishing to attend, please contact the zoo to register. Email: [email protected] or phone 02 6287 8487
What To Bring
• A bracelet or name tag with contact details and anything else we should know if they become separated from your group.
• Ear plugs or headphones. Areas of the Zoo can become crowded and noisy.
• A favourite device or activity. Bring their tablet, video game, book, or anything else you think might distract them and keep them occupied during any periods of waiting. Please note that some items are restricted from entry to the Zoo. Bikes (including three wheelers for toddlers), scooters, skateboards, wagons, roller-shoes/skates/blades are prohibited.
• Reinforcers for good behaviour. The average visit to the Zoo is 3 hours, so an item to keep them entertained can be helpful. The sights, sounds, smells and movements through the Zoo might become overwhelming, so a sensory toy could be useful.
• You can print the Zoo Map before you come so you can plan your day. Zoo Map