Hear one of the animal kingdom's most

memorable

stories!
The objective:
To meet our beautiful sun bears and to hear the remarkable story of Otay's survival and of how Australian Mary Hutton saved over 1,000 bears, including our own Otay, who she brought to us. You will learn how just one person can do such for animal conservation..
The experience:
You will personally feed the most aggressive of the bear family, but while letting you know who is boss, they will gently take the food from you.
The impact:
 At the end of the encounter, you will be fascinated by this species and by how one person had such a massive impact on the survival of so many animals!
The reason:
Sun Bears are one of the most endangered species on earth, with only an estimated 2,500 left in the wild. As with tigers, we are trying to save them in the wild, along with their habitat, to prevent breeding programs such as ours becoming their only hope for survival.
The outcome – $1,000,000!!
 Through tour and encounter revenue, during the last 3 years the National Zoo and Aquarium and Jamala Wildlife Lodge have donated over $1,000,000 in cash and kind to various animal conservation and welfare groups, along with charities, in Australia and worldwide. Your support of the encounters helps us maintain this and you can also donate directly to a number of animal causes by clicking on the link.
Special notes
You will be entering the home of our resident animals, so please understand that they have the right to participate or not participate in any encounter and their wishes will always take priority. The animals are not restrained in any way and are free to leave the encounter if they choose.
You will learn about the animals, their habits, habitats, special abilities and their vulnerability in the wild and how you can help them
Due to other precautions, there are no mask or vaccination requirements for participants on this tour or encounter. However, guides will wear masks when appropriate and guests are welcome to wear one.
Zoo entry not included*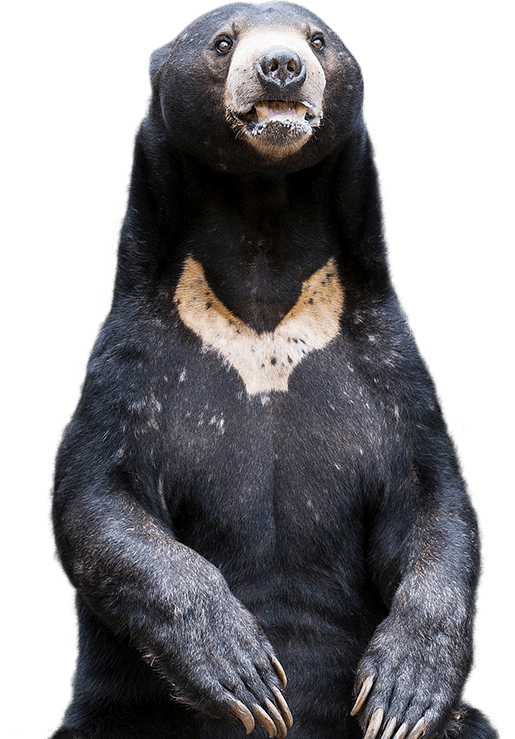 | | |
| --- | --- |
| Days | Wednesday, Thursday and Friday |
| Time | 1:30pm |
| Maximum People | 2 people |
| Minimum Age | 6 years (must be accompanied by a paying adult if under the age of 16) |
| Length | 15 minutes |
| Adult Cost | $65 per person Weekday or $85 Weekend and School/Public holidays. Zoo entry not included* |
| Child Cost | $40 per person Weekday or $50 Weekend and School/Public holidays. Zoo entry not included* |
| Zoo Entry Fee | *Zoo entry is not included in the price and must be purchased at an additional fee to participate in the encounter. |
| Booking | Book an encounter today |
| Vouchers | Buy a gift card here |
| Restrictions | Please see Things You Need To Know |
| Questions? | Please see our FAQs |
"Sun Bears have an excellent sense of smell and extremely long claws, exceeding 10cm in length."
Greet-the-Cheetah-Boys
Have you ever thought that you could interact with the fastest land animal in the world?
Learn more