Meet and feed
Ruby & Rocco

in a memorable

encounter
The objective:
The Barking Owl is native to Australia and New Guinea. We want guests to get an appreciation of the many incredible birds that exist and how they can help them.
The experience:
You will enter Ruby and Rocco's aviary and be enthralled by their grace in flight and their amazing abilities as an apex predator. Feed them and have them fly to you and see if they land on your outstretched arm!
The impact:
This is a remarkable experience and many participants walk away with a whole new appreciation of the world of birds!
The reason:
Barking Owls are listed as endangered (?) in NSW and Victoria and many bird species need our assistance.
The outcome – $1,000,000!!
 Through tour and encounter revenue, during the last 3 years the National Zoo and Aquarium and Jamala Wildlife Lodge have donated over $1,000,000 in cash and kind to various animal conservation and welfare groups, along with charities, in Australia and worldwide. Your support of the encounters helps us maintain this and you can also donate directly to a number of animal causes by clicking on the link.
Special notes
You will be entering the home of our resident animals, so please understand that they have the right to participate or not participate in any encounter and their wishes will always take priority. The animals are not restrained in any way and are free to leave the encounter if they choose.
You will learn about the animals, their habits, habitats, special abilities and their vulnerability in the wild and how you can help them
Due to other precautions, there are no mask or vaccination requirements for participants on this tour or encounter. However, guides will wear masks when appropriate and guests are welcome to wear one.
Zoo entry not included*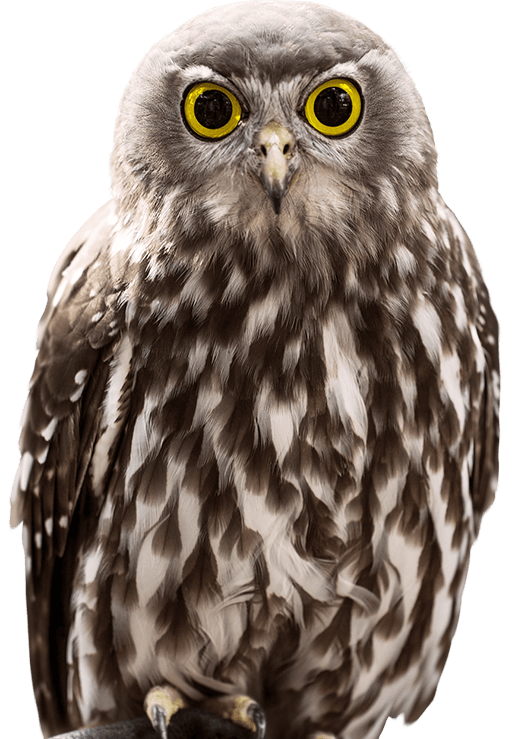 | | |
| --- | --- |
| Days | Daily |
| Time | 2:45pm |
| Maximum People | 2 people |
| Minimum Age | 10 years (must be accompanied by a paying adult if under the age of 16) |
| Length | 15 minutes |
| Adult Cost | $65 per person on a Weekday or $85 per person on a Weekend and School/Public holidays. Zoo entry not included* |
| Child Cost | $40 per person on a Weekday or $50 per person on a Weekend and School/Public holidays. Zoo entry not included* |
| Zoo Entry Fee | *Zoo entry is not included in the price and must be purchased at an additional fee to participate in the encounter. |
| Booking | Book your encounter here |
| Vouchers | Buy a gift card here |
| Restrictions | Please see Things You Need To Know |
| Questions? | Please see our FAQs |
"Barking Owls get their name from the signature dog-like bark they make."
Greet-the-Cheetah-Boys
Have you ever thought that you could interact with the fastest land animal in the world?
Learn more