New international zoo agreement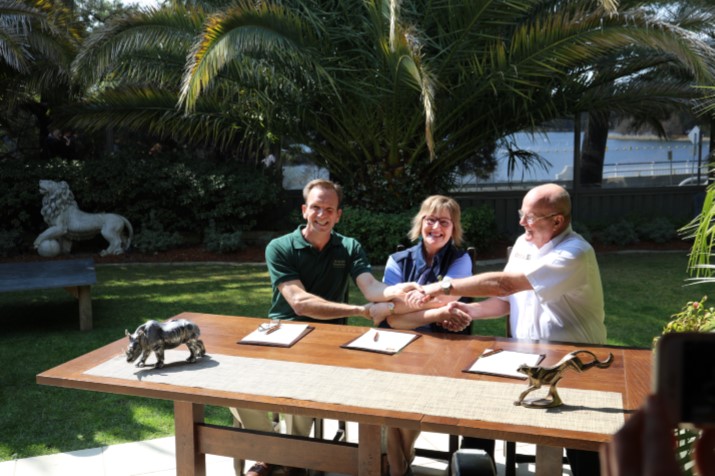 National Zoo & Aquarium will today join with Wellington Zoo and Wildlife Reserves Singapore in signing a memorandum of understanding (MOU) to promote education and information sharing across the city's zoos.
It's the first international agreement between Canberra, Singapore and Wellington signed on home soil, and creates an unprecedented level of cooperation and sharing between the three wildlife organisations.
The MOU was signed today between the National Zoo & Aquarium director Richard Tindale, Wildlife Reserves Singapore CEO Mike Barclay and Wellington Zoo Trust CEO Karen Fifield.
With a focus on animal conservation and environmental security the institutions have agreed to eight key activities, including to:
cooperate to deliver staff training
offer staff exchanges
share information such as animal care manuals, conservation and sustainability processes
partner in conservation projects of mutual interest
conduct joint workshops or roadshows to promote animal welfare.
At the event today, Canberra's Chief Minister Andrew Barr announced that "This MOU is a significant milestone for the National Zoo & Aquarium and reaffirms it's position as a world leading wildlife facility. The National Zoo & Aquarium this year celebrated 20 years of operation and I have no doubt this partnership will help it attract more visitors and a love of animals in locals and visitors alike."
Richard Tindale, the director of the National Zoo & Aquarium responded ""We are delighted to be formalising our relationship with two of the world's leading zoos, Singapore Zoo and Wellington Zoo, via this memorandum of understanding. We look forward to working closely with both institutions on important, future conservation projects as well as the opportunity to share knowledge and skills between our like-minded institutions and staff."
Wellington Zoo Chief Executive Karen Fifield commented "We are thrilled to celebrate the city relationships and are committed to deepening our relationship with these two fellow progressive zoos. This partnership enables us to put our combined weight behind conservation programs, sustainability initiatives and advancing animal welfare in our zoos."
Mike Barclay, Chief Executive Officer of the Mandai Park Holdings Group said "We are honoured to have this opportunity to be more closely associated with the National Zoo & Aquarium and Wellington Zoo. This collaboration will allow us to share our expertise in running open zoo exhibits, to encourage participation in our training programmes and international conferences, and to work together on conservation initiatives throughout Southeast Asia. In turn, we look forward to learning best practices from the National Zoo & Aquarium and Wellington Zoo with respect to animal welfare, sustainable operations, education programmes and enhancing guest experience."
The MoU is effective for five years, with a planned annual review.
Canberra's National Zoo and Aquarium has signed a Memorandum of Understanding with 2 other international wildlife organisations.The agreement aims to boost animal welfare and conservation globally.

Posted by WIN News Canberra on Monday, 10 September 2018