Facilities
See everything that the National Zoo has to offer!
AdventureLand Playground
Adventureland is designed for children aged 2 to 12 to experience the wonders of the natural world, as they embark on a Safari to explore various life size fibreglass animal sculptures and structures. Apart from being great fun, the Discovery Trail within AdventureLand is full of surprises. As the tropical gardens continue to grow, turning each corner will lead to a new discovery with lots of fascinating and exciting wildlife, along with animal conservation facts to be learnt along the way!
With a total of 55 activities available for children of all ages to engage in, including cubby houses, a large tree house with rock climbing posts and a 3-metre-high slide, concrete rock tunnels in the form of a fallen tree, net climbers, inclusive swings, flying foxes, full size animal structures and much more, AdventureLand is fast becoming a destination play space in the heart of Canberra and within the National Zoo & Aquarium itself.
Located next to the rhino bistro and viewing park area.
Open 9:30 am – 5:00 pm daily.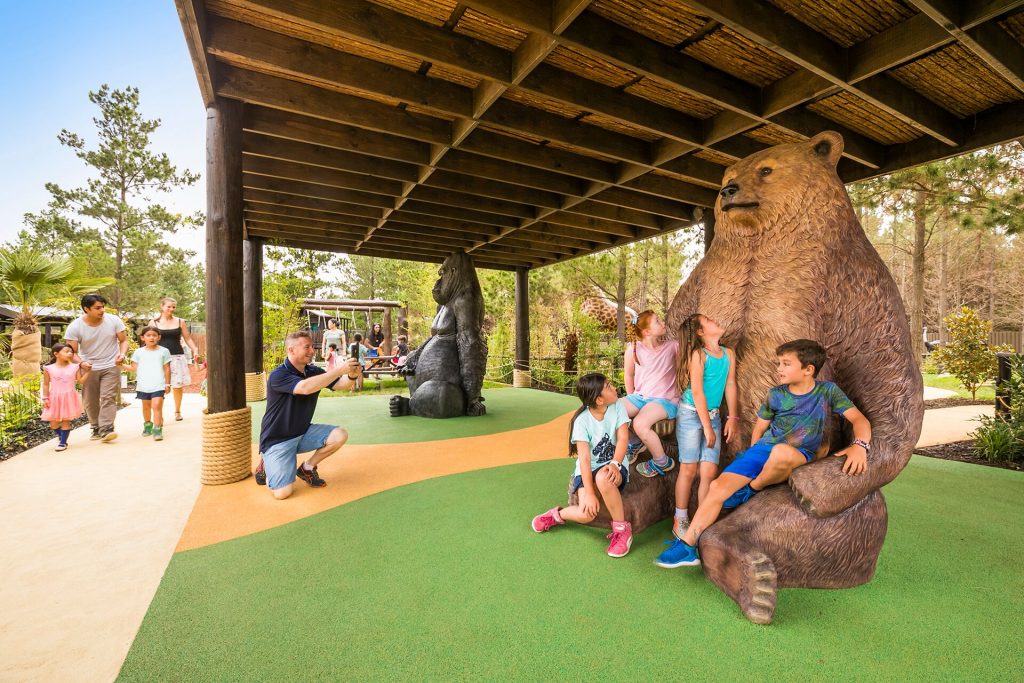 Gift shop
Our Gift Shop has a great variety of souvenirs to remind you of your visit, from pocket money toys to quality clothing, wildlife themed home and giftware, and beautiful jewellery. Open daily from 9.30 am to 5.00 pm. You can also visit the Gift Shop without entering the zoo – please ask our friendly staff  to gain entry. Purchases made in the Gift Shop contribute to our special animal programs at the Zoo. Learn more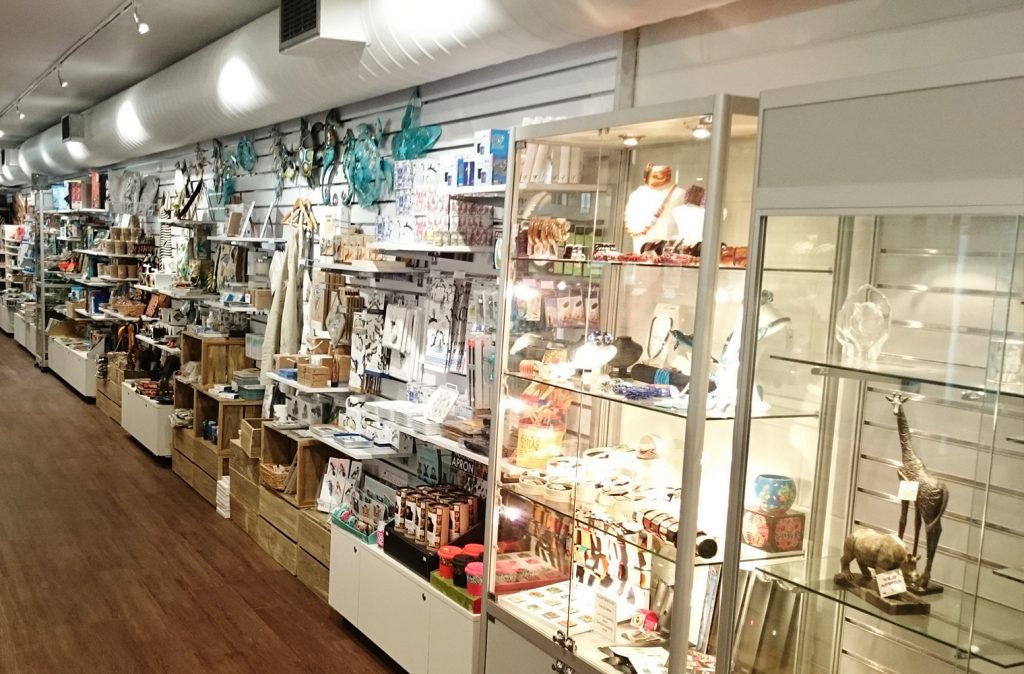 The Rainforest Cafe
The Rainforest Cafe is located next to the lower car park entry, adjacent to Monkey Island. Grab a quick snack, a pie and a cold drink, or relax with a coffee and a sweet treat. Open 9.30am to 5pm daily.
There are also a number of snack and drink vending machines located around the park for your convenience.
Rhino Bistro
The Rhino Bistro is located at the Viewing Park in the open range section and is open every day from 9:30am to 4:30pm with the exception of weekends, school holidays and public holidays where it opens from 9am. With plenty of indoor & outdoor seating, it's the perfect place to have a meal, cold drink or coffee. There is a large variety of sandwiches, wraps/rolls & sweets. Breakfast options such as bacon and egg rolls, ham and cheese croissants & Vegetarian Breakfast rolls are available from opening until 11am. As well as a generous selection of burgers, fish and other hot food options available daily from 11am – 3:00pm.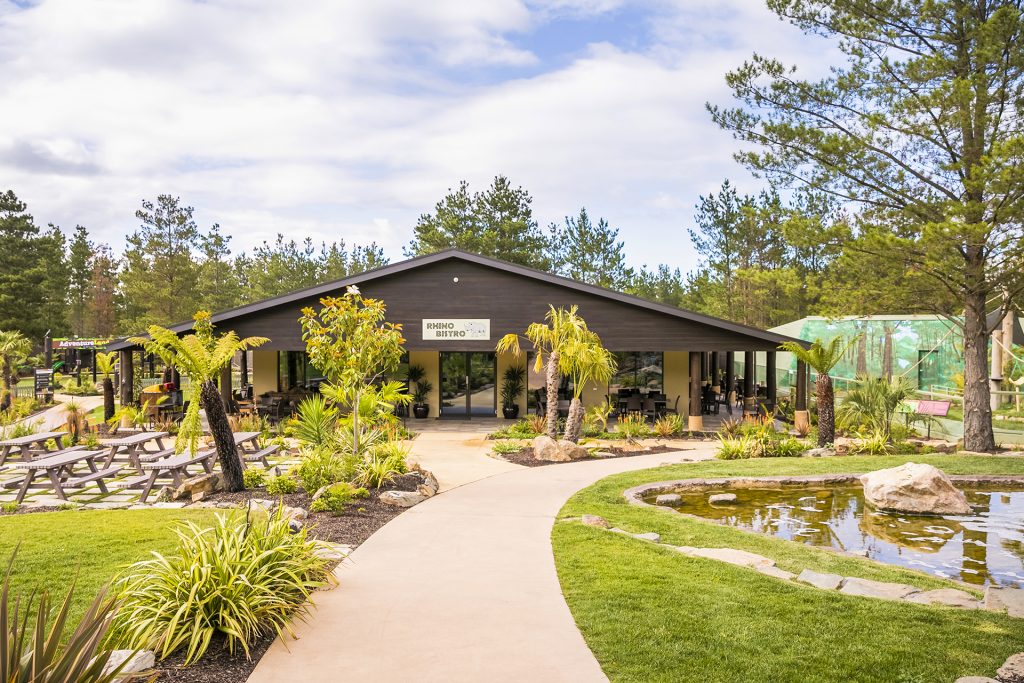 Picnic areas
You are welcome to bring your own food and drink into the zoo (with the exception of alcohol).
The zoo has several areas within the grounds that can cater for anything from a simple picnic or BBQ to a large family or corporate event whilst being surrounded by some of the zoo's most amazing animals.
Our grassed areas, picnic tables,  covered gazebos and cabanas are all shared facilities and are free to use on a first come basis. Booking a table isn't required and there is plenty of seating to choose from.
However, if you are planning a larger gathering or catered event and wish to book an entire area/s for exclusive use, please email [email protected] for more information and the fees involved.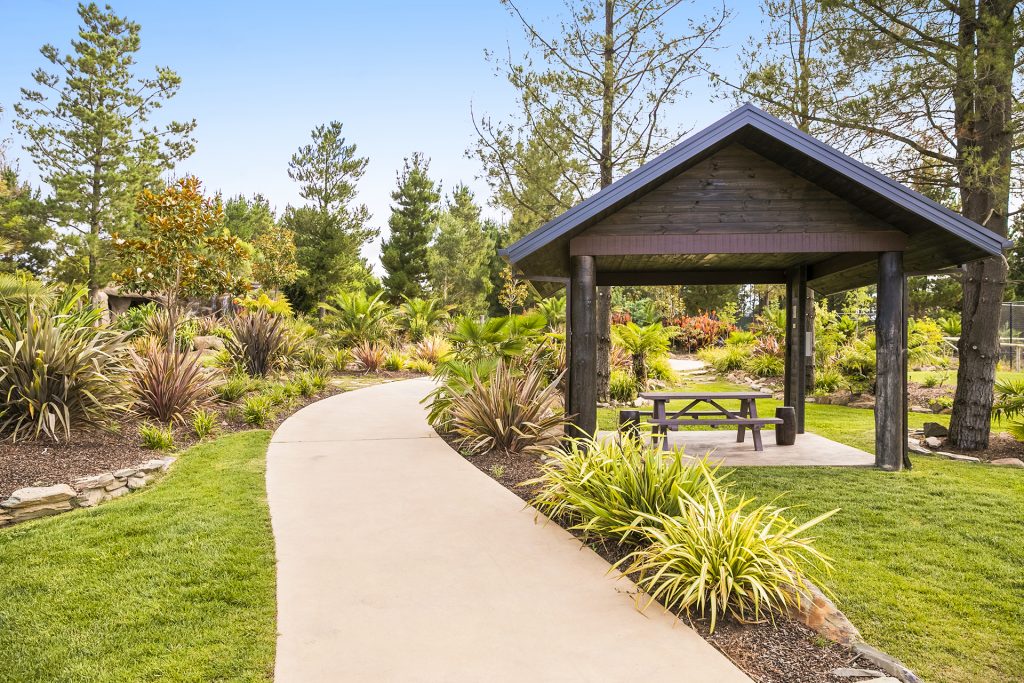 Asian Aviary - BBQ area
This is a small covered pergola BBQ area adjacent to the Birds of Asia aviary. It is surrounded by the Meerkat and Red Panda exhibits with the Tree Kangaroos and Koalas close by. Two large picnic tables with bench seats and an electric BBQ are available for use. This area would suit a small group with guests numbering around 10–20.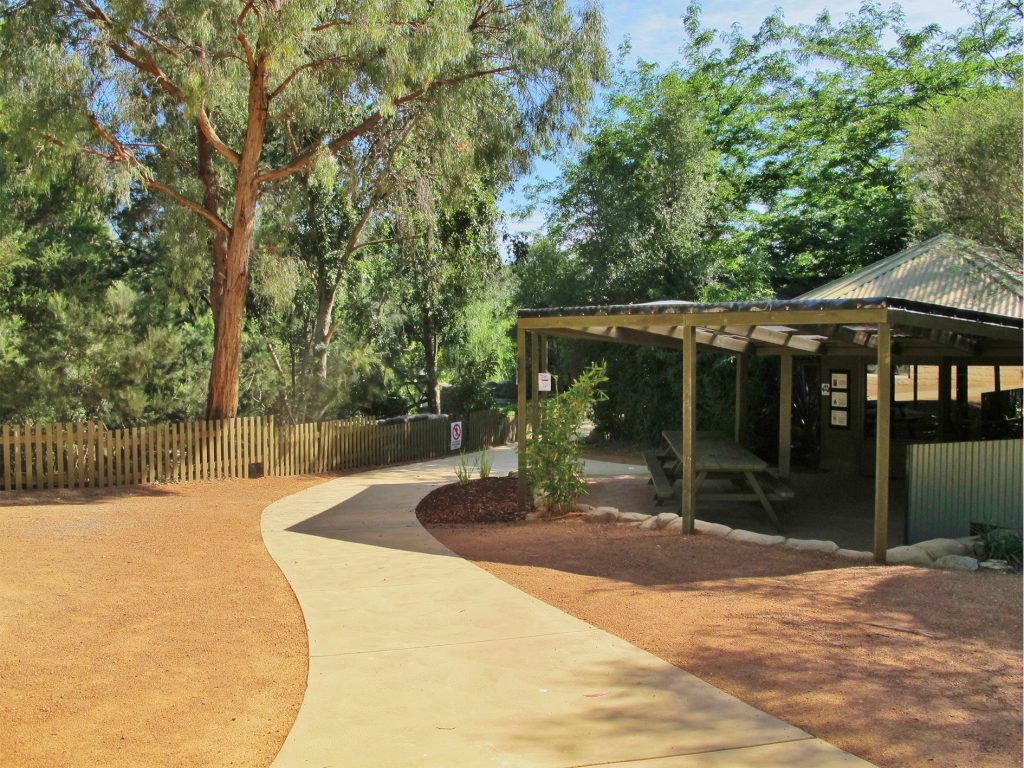 Sun Bear - BBQ/function area
This is a small, quiet spot nestled amongst beautiful gardens with a small grassed area alongside a covered pergola with 3 large picnic tables and bench seats, and two separate electric BBQ's. Nearby is the Birds of Asia aviary and the Meerkat and Red Panda exhibits, all of which can be easily accessed from the function area. This area would suit a small group with guests numbering around 20 – 50. Suitable for lunchtime events, or early evening functions (daylight savings).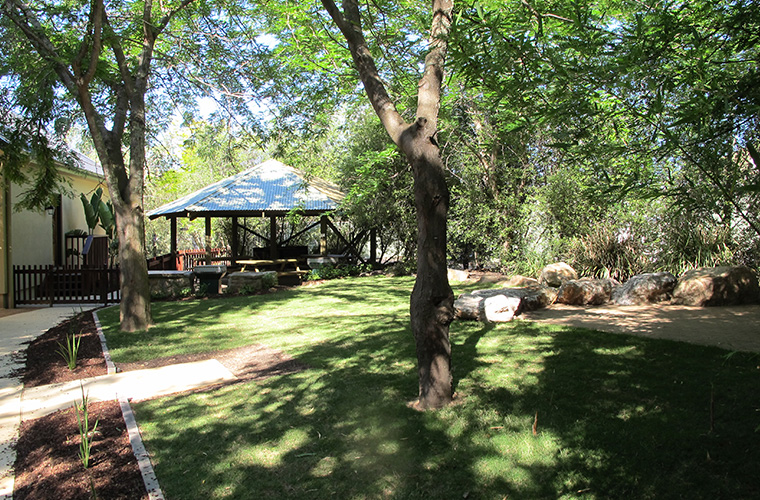 African Plains - BBQ/function area
This is a large grassed area that is situated centrally in the zoo. It also has a covered pergola area with 3 large picnic tables and bench seats, and two separate BBQ's. Surrounding this area are exhibits for Giraffe, Black and White Colobus Monkey and the Native Walk Thru. This area is capable of holding larger groups with guests numbering approx 30 – 60, and many more if you utilise the adjoining grassed area for picnickers. Suitable for lunchtime events and early evening functions (daylight savings). It also makes a good central venue for corporate or family days, easily fitting up to 100 guests.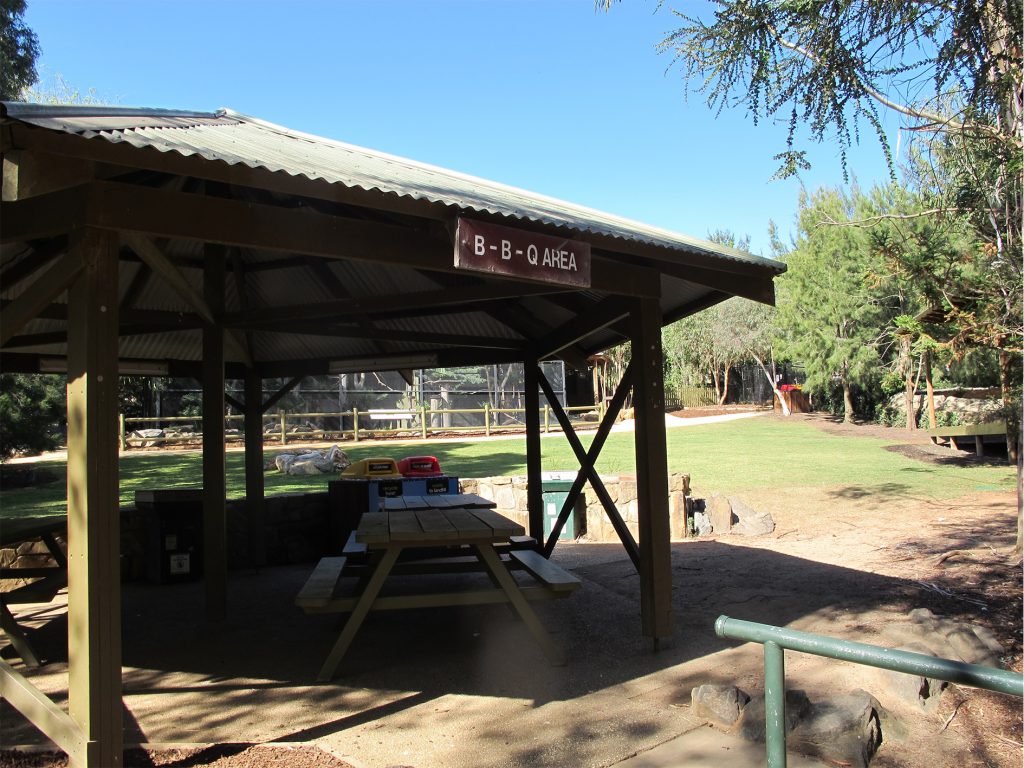 New Viewing Park Cabanas
Our new Viewing Park has 4 covered Cabanas for visitor use. 1, 2 and 3 table Cabanas, and a 4 table Pavillion are available, all surrounded by grassed areas. There is a large shared BBQ for the Cabanas plus another BBQ at the Pavillion that are free to use. This new central area is surrounded by a number of animal enclosures, including Rhinos, Blackbuck, Maned Wolves and more. A tranquil waterfall, creek, landscaped gardens and trees make this a wonderful area to hold your family picnic or larger event, while having access to a number of animal species in close proximity. This area is suitable for larger lunchtime events and early evening functions (daylight savings) and for corporate or family days, easily accommodating up to 100 guests.