National Zoo volunteer recycles 170,000 containers for wildlife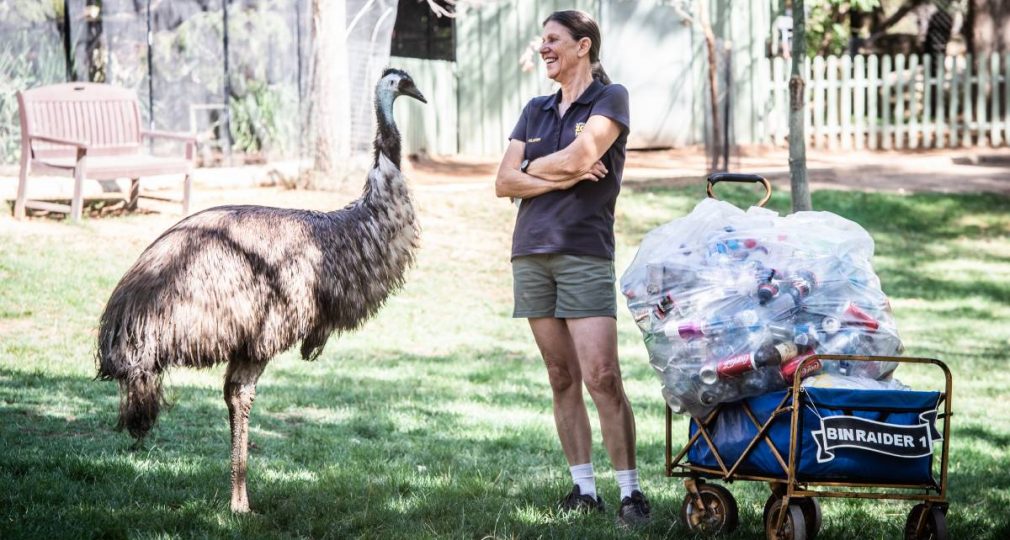 Photo: Karleen Minney
Retired nurse and National Zoo and Aquarium volunteer, Sue Fallon, has helped recycle 170,000 bottles and cans through the ACT CDS, raising $17,000 for wildlife charities along the way.
Sue has volunteered at the Canberra zoo for more than 11 years and is part of the National Zoo Animal Conservation Team (NZACT) – a group 15 people from different areas of the zoo, focused on fundraising and conservation goals.
 In 2017 Sue initiated soft plastic recycling at the zoo, personally taking the soft plastics collected in the designated bin to return points at Coles and Woolworths twice a week. She said that after viewing War on Waste, she felt she "had to do something".
 Then in 2018 the ACT Container Deposit Scheme launched, giving a 10 cent refund for each eligible bottle or can returned. Sue jumped at this new opportunity and helped arrange for the zoo to establish bins for recyclable containers that she would return.
 "My first week's collection came to $27. It was so easy and the staff were wonderful and very helpful and encouraging," Sue said.
 The recycling has gone from strength to strength, and in January this year the month's total was $1,350 which went to the Native Animal Rescue Group in Braidwood.
 "This is a local group which looks after sick and injured wildlife – they are in need of money especially after the recent bushfires," Sue said.
 Each month's fundraising goes to a specific charity or animal. February fundraising will go to supporting penguins, March will support bears while otters, giraffes, lions, red pandas, lemurs and kowari (a native Australian marsupials rat) all feature in the 2020 donation plan.
 "I am inspired by the way the staff at the zoo have all got on board," Sue said. "It is all about changing practices and getting people to think before they act as they did routinely in the past. It is about how what we are doing at the zoo can inspire others to make changes and recycle too."
Amy Martin (Canberra Times)