New Open Range area officially opened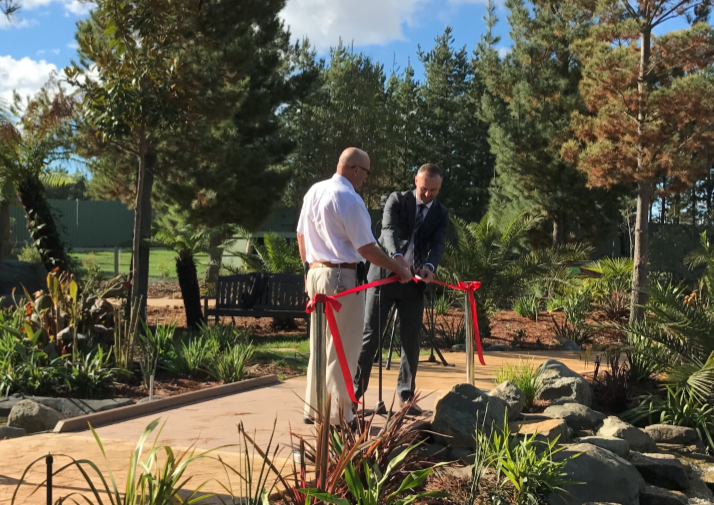 ACT Chief Minister, Andrew Barr MLA, officially opens the new area, which almost triples the size of the zoo
CANBERRA'S National Zoo and Aquarium has officially opened a new open-range extension, which is home to a host of species including white rhinos, maned wolves, zebra, cheetah, giraffe, elk and much more.
ACT Chief Minister, Andrew Barr MLA, conducted the opening and praised the attraction's owner Richard Tindale and his staff, for their dedication and passion to create a world class attraction.
Speaking at the ceremony, he said: "Here at the National Zoo & Aquarium and Jamala Wildlife Lodge we have a world class tourism product and you should be incredibly proud, you and your teams, of what has been achieved here. It is just fantastic.
"This facility is so highly rated by visitors to Canberra and highly rated by Canberrans, and that's due in no small part to the great passion of the staff and what they bring to what they do, every day."
The site is particularly unique as it features a combined aquarium, metropolitan zoo and an easily walked open-range section and more than doubles the size of the existing zoo. It is one of the few open range sections of a zoo found in a city environment, as most are located in country areas. Visitors are able to see many young animals including a baby giraffe, zebra foals, elk calves, adolescent lemurs and a baby siamang, most of which have previously been off display to visitors until now. Other animals within the zoo include white and tawny lions, tigers, snow leopards, cheetahs, bears, monkeys, meerkats, painted dogs and many more.
The location offers a great open-range attraction for regional ACT and greater Sydney, being only a three hour drive. Additionally, luxury accommodation is available inside the zoo at Jamala Wildlife Lodge, which makes the perfect break. Guests staying at the world renowned lodge will also benefit from the expansion, with extended tours featuring new species of animals.
Jamala Wildlife Lodge is the ultimate overnight safari. The spectacular accommodation allows guests to enjoy breathtaking animal encounters and sleep next to some of the most endangered and powerful animals in the world, including lions, tigers, bears and giraffe. The lodge recently celebrated its 2nd Birthday and has seen thousands of interstate and overseas visitors looking for a unique experience alongside luxurious accommodation and five star dining.
The much-anticipated expansion is not only great for guests but also allows the zoo to expand its work with critical breeding programmes for endangered animals.
As well as amazing animals, the new area features stunning themed landscapes including waterfalls, a vast fern gully and beautiful picnic and BBQ areas.
The owner, Richard Tindale, said: "It gives visitors the opportunity to see some of the most magnificent animals on the planet in more natural surroundings. The diversity of species that visitors can see in the expanded zoo is unique in Australia and probably the world and is a huge attraction. Exotic and native animals, freshwater and marine fish, sharks and eels, reptiles and amphibians are all on display.
"The Zoo is only a short drive for people from Sydney, the Illawarra and Southern Highlands, providing them with the opportunity to enjoy tropical gardens and an easy walk throughout the zoo."
As well as creating improved habitats for the animals, the zoo and Jamala Wildlife Lodge aims to inspire care for the natural world by offering an immersive and unforgettable experience for guests.
Richard added: "Anything that you can do that enhances the education of the emerging generation and persuades them to take better care of our planet than our generations, and previous generations have done, is very very important and is one of the integral parts of what a zoo is all about."